Lobster Tails by Effing Rob Recipe
Hey Hey! It's Effing Rob here and I love to cook but I have no culinary training. I know seafood can be intimidating, but I'm here to show you that it can be easy. I'm a simple cook and I like to let the ingredients speak for themselves while keeping it quick and simple. Try it out and let me know what you think. Don't forget to tag us on social media with your creations!
Effing Rob's Lobster Tails
#easyaseff
Ingredients:
2 X 8oz Atlantic Lobster Tails
2 TBSP Butter (Butter makes everything better) – Salted or Unsalted – Doesn't matter
1 TBSP Minced Garlic
Paprika
Instructions:
-Cut the back of the lobster shell down the middle and squeeze the shell to open up the meat. It's ok if you cut the meat.
-Pull meat from shell.
-Set meat on top of shell.
-Mix butter and garlic and spread the butter and garlic mix over the meat.
Optional- Sprinkle paprika on top. (I found a recipe on google that called for this)
-Place on baking sheet.
-Broil High –  Approx. 45 seconds per oz.
-These were 10oz so I did 8 minutes and they  were perfect!
Easy as Eff!!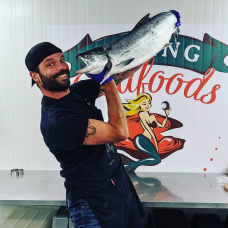 ROB TRYON
Head Seafood Dude
Rob is the founder & owner of Effing Seafoods. Rob's dad was a fisherman and he grew up around seafood in the Effingham Inlet on Vancouver Island. He came to Alberta for the oil field work, but quickly fell in love with the province even though he was still drawn to the ocean. That's when Rob decided to start Effing Seafoods – a company that would supply Albertans with fresh seafood that came from known and reliable sources. Rob's passion and enthusiasm for his craft was contagious and soon the company grew!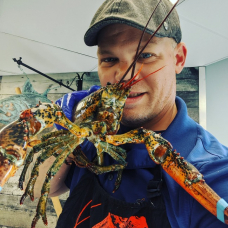 SHAWN HARTWELL
Seafood Specialist
Shawn's bio.