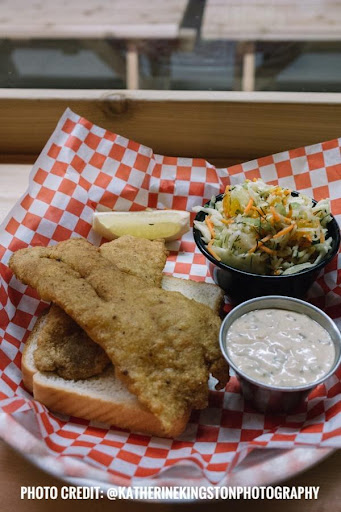 Rockfish Fillet(s)
1 cup Buttermilk
1 egg
¼ cup Hot Sauce
2 cup All Purpose Flour 
2 tsp. Cumin
1 tsp. Celery salt
1 tsp. Garlic powder
1 tsp. Onion powder
 2 tsp. Paprika 
 1 tsp. Cayenne pepper
Salt & Pepper to taste
1 cup Cornmeal
Canola Oil for Frying
Recipe from our friends at NORTHERN CHICKEN!
With a sharp knife and the rockfish laying flat on cutting board slice the rockfish into 2 thin fillets.

Mix together buttermilk, hot sauce, egg, salt, and pepper to taste in a bowl. Place sliced rockfish fillets into mixture and let stand for 10-15 mins.

Combine Flour, cumin, celery salt, garlic powder, onion powder, paprika, salt and pepper. 

Place cornmeal in bowl season with salt and pepper

Remove rockfish fillets from buttermilk mixture, coat in flour mixture, then back in buttermilk mixture and finally coat in cornmeal mixture. Repeat steps if necessary to ensure complete coverage of rockfish. 
6. Let rockfish sit on baking tray for 10 mins to let crust adhere to fish. 
Preheat a large deep, frying pan with enough canola oil to cover bottom of pan. Once hot enough, carefully add rockfish fillets to pan.

Cook each rockfish fillet for 1-2 minutes per side until cornmeal is crisp and browned and fish feels slightly firm to touch. 

Remove from pan place on paper towel to absorb excess oil.  ENJOY!
Products Used In This Recipe