The B-52 by Chef Ben Staley of Restaurant Yarrow
Serves 6
Lobster Shell Emulsion
500g lobster shell oil*
50g egg yolk
50g lobster liquid*
40g apple vinegar
salt, to taste
Add the egg yolks to a stand mixer, fitted with the whisk attachment
Over medium speed, slowly drizzle in the lobster oil to make an emulsion
Go slow as to not break the emulsion, it will take approximately 20 minutes
A squeeze bottle with a fine tip works nicely to control the flow of oil
Once all of the oil is added, with the mixer still running, add the lobster liquid, apple vinegar, and salt
Reserve in the fridge until needed
*Lobster Shell Oil
500g lobster shells
1200g neutral oil
In a blender, combine the shells and oil, blend until roughly broken apart
Add to a pot with at least 4cm of extra space
Cook over medium-low heat for 4 hours
The pot shouldn't boil aggressively.
After 4 hours, allow to cool completely at room temperature
Strain through cheesecloth overnight 
Discard the shells and reserve the oil until needed
*Lobster Liquid
After picking any lobster meat from the shells, or if using frozen picked meat
Firmly squeeze all of the meat with your hands, collecting the liquid in a bowl
Reserve until needed
Pickled Mustard Seeds 
100g brown mustard seeds
20g caraway seeds
200g white vinegar
200g water
20g salt
20g sugar
Combine all of the ingredients in a non-reactive container
Allow to sit at room temperature for 2 days
Strain the seeds and discard the liquid
Reserve until needed
"Salt & Vinegar" Chips
300g fingerling potatoes
250g white vinegar
750g water
50g kosher salt
25g white vinegar powder
Neutral oil, for frying
Combine vinegar and water
Using a mandolin, slice the potatoes to 2mm thick
Add the potatoes to the vinegar and water mixer
Allow to sit in the water overnight
Combine the white vinegar powder and salt 
Reserve until needed
The following day, heat up your frying oil to 165ºC
Remove the potatoes from the water
In batches, fry the potatoes until golden brown
Once fried, add the potatoes to a bowl and season with the vinegar powder and salt mixer
Reserve until needed
Parker House Buns
672g AP flour
75g sugar
47g skim milk powder
6g salt
86g butter
375g milk
4 eggs 
50g cream
15g instant yeast
Add flour, milk powder, and salt in the bowl of a stand mixer fitted with the hook attachment
Add milk and sugar to a pot
Warm over low heat until body temperature
Transfer to another container and whisk in yeast
In the same pot, melt the butter over low heat until just melted
Once melted, add butter and 2 eggs to the milk mixture
Whisk to combine 
Once combined, slowly pour into the stand mixer over medium low speed
Knead until the dough pulls from the sides
Transfer the dough to an oiled bowl, cover with plastic wrap, allow to proof until doubled in size
Once doubled in size, weigh out 120g balls
Shape the balls into linear bun shapes
Neatly place the dough into a suitable pan lined with butter parchment
Wrap with plastic wrap and allow to rise until doubled in size
Preheat your oven to 160ºC 
Combine remaining 2 eggs and cream until homogenized
Once doubled in size, brush with an egg wash
Bake the buns for 10 minutes, then rotate, then bake for another 10 minutes
Allow to completely cool in the pan
Reserve until needed
To assemble
900g picked lobster meat
300g reserved lobster shell emulsion
50g reserved pickled mustard seeds
120g sliced celery (4mm thick)
30g finely chopped celery leaves
60g finely diced white onion
6 parker house buns (cut halfway through the top)
soft butter, to toast the buns
salt, to taste
6 medium butter leaf lettuce leaves
Reserved "Salt & Vinegar" chips
In a bowl, combine the lobster meat, lobster shell emulsion, pickled mustard seeds, celery, celery leaves, white onion, and salt
Mix to combine, being careful not to over mix
In a non-stick pan, over medium heat, toasted the buns on their sides until golden
Open up the cut buns and line with the butter lettuce
Divide the lobster mixture among the 6 buns
Top with "Salt & Vinegar" chips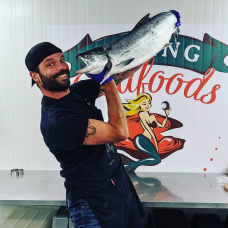 ROB TRYON
Head Seafood Dude
Rob is the founder & owner of Effing Seafoods. Rob's dad was a fisherman and he grew up around seafood in the Effingham Inlet on Vancouver Island. He came to Alberta for the oil field work, but quickly fell in love with the province even though he was still drawn to the ocean. That's when Rob decided to start Effing Seafoods – a company that would supply Albertans with fresh seafood that came from known and reliable sources. Rob's passion and enthusiasm for his craft was contagious and soon the company grew!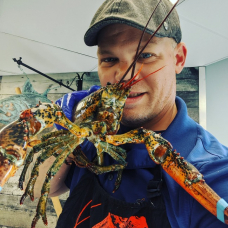 SHAWN HARTWELL
Seafood Specialist
Shawn's bio.