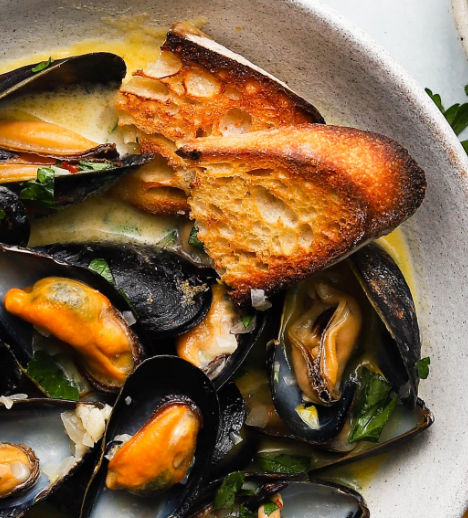 Extra virgin olive oil

4 large garlic cloves, minced

1 large shallot or small red onion, halved and thinly sliced

kosher salt

1 teaspoon Italian seasoning, use this recipe

½ to 1 teaspoon red pepper flakes, or Aleppo pepper

3 pounds mussels

1 cup chicken or vegetable broth

½ cup dry white wine

3 tablespoons chopped fresh parsley for garnish, optional
1 lemon, cut into wedges

1 French baguette or rustic Italian bread, sliced, optional
1. In a large Dutch oven or 6-quart cooking pot, heat about 2 to 3 tablespoons of extra virgin olive oil over medium-high heat until shimmering.
2. Add the garlic and shallots, and season with a good pinch of kosher salt. Add the Italian seasoning and red pepper flakes (or Aleppo pepper), if using. Cook, stirring frequently with a wooden spoon, until fragrant (manage the heat to make sure the garlic does not brown).
3. Add the mussels and stir them around a bit, then pour in the broth and wine.
4. Cover the pot and let the mussels steam over medium-high heat for about 5 to 6 minutes or until the mussels open up (you can give them a quick stir midway through).
5. As soon as the mussel shells are open, immediately remove the pot from the heat and stir in the fresh parsley.6. Transfer the mussels and broth to serving bowls and serve immediately with lemon wedges and French or Italian bread to the side.
Products Used In This Recipe