Effing Sassy Sierra Salmon Bowl
Effing Rob's daughter, Sierra showed him a TikTok video of someone making a similar version to this. They decided to recreate it for dinner at Effing Casa and it was a great success. Basically, it's a cooked salmon version of a Poke Bowl
What's in your Sassy Sierra Salmon Bowl Kit
2 X 6oz Sockeye Portions
1 Whole Avocado
1 cup Sushi Rice
Effing Spicy Mayo
Edamame Beams
Pickled Shallots
Ponzu
Seaweed packs
DIRECTIONS
Thoroughly rinse sushi rice in a colander with cold water.

Add rice to a pot along with 1 1/4 cups of water and cover (Use the container that contained the rice and fill with water to the brim).

Cook on Medium-high heat until water reaches simmer and reduce heat for 12-14 minutes.

Remove from heat and let stand for 10 minutes (covered)

Meanwhile, Pre-Heat oven to 400F and place Salmon pieces on a cookie sheet.

Once pre-heated place sheet in the oven for 10-12 minutes or until fish has reached an internal temperature of 140F.

Slice or cube avocado.

After rice has cooked and rested, add sushi rice seasoning and mix with wooden spoon (optional).

Assembly for Bowl (all to your preference):

Scoop rice into bowl

To one side add fish

Add

 edamame beans and pickled shallots

Add a squeeze of fresh lemon juice and ponzu sauce

Spread Spicy mayo across the top

Seaweed can be used to scoop mixture in bowl. (Sierra had decided to break up salmon and mix through bowl thoroughly.

Take a photo.

Enjoy your meal!

Post on social media and tell your friends!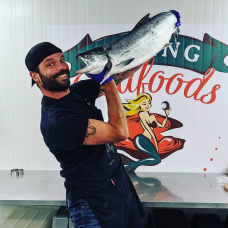 ROB TRYON
Head Seafood Dude
Rob is the founder & owner of Effing Seafoods. Rob's dad was a fisherman and he grew up around seafood in the Effingham Inlet on Vancouver Island. He came to Alberta for the oil field work, but quickly fell in love with the province even though he was still drawn to the ocean. That's when Rob decided to start Effing Seafoods – a company that would supply Albertans with fresh seafood that came from known and reliable sources. Rob's passion and enthusiasm for his craft was contagious and soon the company grew!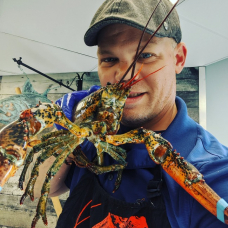 SHAWN HARTWELL
Seafood Specialist
Shawn's bio.