Clams are bottom dwellers, living rooted in sand and they get their nourishment from sucking in itty bitties of water and sand along with it. Thus, they have a tendency to be sandy or gritty if not rinsed well. No need with our clams! At Effing Seafoods we hold our clams in our live tanks for a minimum of 24 hours to allow them to purge or spit out any sand they may still have in them and give our customers the freshest cleanest clams around! 
Trust your Effing fishmonger to supply only the best product available.
An important part of making clams is to be sure to pick through for any half open or damaged clams before cooking but at Effing Seafoods we always try to inspect our product before it leaves the store.
Ingredients
3 tablespoons butter divided
1/4 cup minced garlic
1/4 cup chopped green onion
2 pounds fresh clams
1 1/2 cups white wine
1 cup fish, chicken or vegetable stock 
juice of 1/2 lemon
1/2 cup cream or half and half
Chopped parsley for garnish
Instructions
In a large sauté pan over medium heat, melt 2 tablespoons of butter. Add the garlic and green onion and cook for 3-5 minutes or until softened, stirring occasionally. Add the cockles and cook for another 5 minutes. Add the white wine and bouillon cubes with water or the chicken broth. Bring to a boil then reduce to a rolling simmer and cook until the clams open up, stirring occasionally. Remove from the heat and stir in the lemon juice. Add the remaining tablespoon of butter and the cream and stir. Garnish with parsley and serve immediately. Add your choice of fresh sourdough to soak up all the goodness!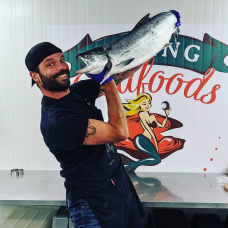 ROB TRYON
Head Seafood Dude
Rob is the founder & owner of Effing Seafoods. Rob's dad was a fisherman and he grew up around seafood in the Effingham Inlet on Vancouver Island. He came to Alberta for the oil field work, but quickly fell in love with the province even though he was still drawn to the ocean. That's when Rob decided to start Effing Seafoods – a company that would supply Albertans with fresh seafood that came from known and reliable sources. Rob's passion and enthusiasm for his craft was contagious and soon the company grew!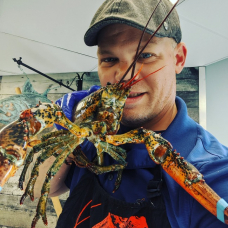 SHAWN HARTWELL
Seafood Specialist
Shawn's bio.