Tzin Wine and Tapas - Scallop Tartare
Tzin Wine and Tapas is one of the best restaurants in Edmonton and we are so proud to have been working with them since the beginning of Effing Seafoods. Chef Corey invited Effing Rob in to meet to plan his 2016 Valentine's Day menu and from there the friendship grew. Effing Rob visits Tzin often to deliver seafood and to enjoy an amazing romantic meal with some great wines paired by owners Glenn and Kelsey. Chef Corey is an amazing talent in the kitchen and it is our go to place to enj0y an awesome meal!! Make sure to try out the Feed Me Corey option with the wine pairings from Kelsey or Glenn. In the meantime, if you'd like to recreate one of Chef Corey's creations you can now do it! To book a reservation or for curbside pickup (Pandemic) please visit Tzin.ca
Ingredients for tartare:

500g Effing scallops

3 shallots, minced

1 bunch fresh dill

1 lemon, zest only

6.25g kosher salt

30ml extra virgin olive oil 

60ml crème fraiche 

Ingredients for cucumber garnish:

250g sliced cucumber ( 2mm thickness)

10ml kosher salt 

25ml white sugar
Method:
Mix the cucumber, salt, and sugar together and let sit for 25 minutes

Clean the scallops by removing the side muscle and rinsing under cold water, then pat them dry with a paper towel 

Roughly Chop the dill fronds, reserving a few whole for garnish

Place all the tartare ingredients in a glass or stainless steel bowl and mix until well combined
Plating:
Arrange cucumbers in a line

Place tartare beside cukes and garnish with the reserved dill sprigs, and some black lava salt

Drizzle with more evoo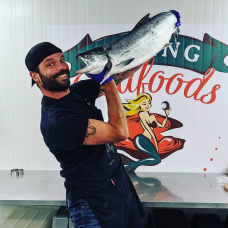 ROB TRYON
Head Seafood Dude
Rob is the founder & owner of Effing Seafoods. Rob's dad was a fisherman and he grew up around seafood in the Effingham Inlet on Vancouver Island. He came to Alberta for the oil field work, but quickly fell in love with the province even though he was still drawn to the ocean. That's when Rob decided to start Effing Seafoods – a company that would supply Albertans with fresh seafood that came from known and reliable sources. Rob's passion and enthusiasm for his craft was contagious and soon the company grew!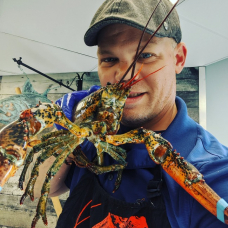 SHAWN HARTWELL
Seafood Specialist
Shawn's bio.