There are a couple of different ways to do a lobster boil. The traditional way involves a full pot of water. I'm here to show you a different method. It's more of a steam than a boil. It may take a little more finesse than dumping everything in the pot but it ensures you do not overcook the star of the dish, the seafood!  Also this way more flavor stays in the lobster and doesn't come out into the water. Keep in mind cooking times may vary depending on the size of pot and how many lobsters you have in your individual package.
Yield: Serves 4
Ingredients:
4 1lb Atlantic Lobsters

4  lbs Manilla Clams 

4  Meuwlys Andouille sausages 

2  lbs creamer potatoes 

4  ears of corn 

2 lemons

1 small white onion or 4 shallots

1 head of garlic

2 cups white wine

½ cup salt

Garlic butter 

Old bay seasoning
Directions:
Add approx 2L of water to your pot. This will vary depending on the size of pot you use but you are looking to have enough water to just cover the top of the potatoes that will sit on the bottom..

Add wine, shallots, salt and garlic to the water and bring to a boil.

Add potatoes to the pot first and bring water to a boil again as the temperature of the water will drop after adding potatoes

Next add your Lobsters and andouille sausage as the next layer. It is important to have a tight lid as we are steaming not boiling the lobsters. Cook for approx 10 minutes. I know it's tempting but do not remove the lid. Don't do it!! Ughhhh you did it didn't you!

Next add your corn (shucked and cut in half) and clams on top of the lobster layer. Place lid on again and cook for approx 5 minutes or until clams fully open.

Drain your ingredients from the pot and stack into a beautiful pile.

Drizzle corn and potatoes with melted garlic butter and old bay seasoning. After the lobsters and clams are removed for shells (use lobster bibs for protection) coat those in garlic butter and old bay as well.

Enjoy!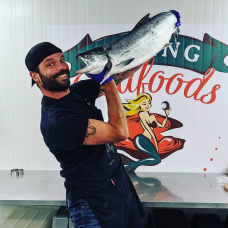 ROB TRYON
Head Seafood Dude
Rob is the founder & owner of Effing Seafoods. Rob's dad was a fisherman and he grew up around seafood in the Effingham Inlet on Vancouver Island. He came to Alberta for the oil field work, but quickly fell in love with the province even though he was still drawn to the ocean. That's when Rob decided to start Effing Seafoods – a company that would supply Albertans with fresh seafood that came from known and reliable sources. Rob's passion and enthusiasm for his craft was contagious and soon the company grew!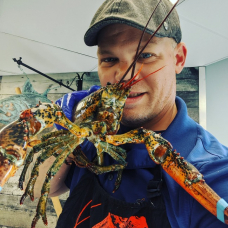 SHAWN HARTWELL
Seafood Specialist
Shawn's bio.